Bettie Mae Page
would have turned 87 years old today
Bettie was the quintessential pin-up, tacked up on walls in military barracks and garages; five decades later, some feminists still hail her as a pioneer of women's liberation. It has been estimated that over 20,000 photographs of Bettie were taken, and new generations of fans still buy copies by the thousands.
On a walk along the beach at Coney Island, an amateur photographer admired the 27-year-old's curvy body and asked her to pose. Nudity didn't bother her, she said, likening it to Adam and Eve in the Garden of Eden. Her modeling career took off, and she was the centerfold in the January 1955 issue of then-fledgling
Playboy
magazine.
In 1951, Bettie fell under the influence of Irving Klaw, a photographer who specialized in S&M. He cut her hair into the dark bangs that became her trademark, and posed her in spiked heels and little else. Bettie began to attain renown as the "Queen of Bondage," known for her bangs, saucy come-hither looks, and controversial sadomasochistic poses. At the time, most of these photos were sold on a lucrative subscription basis, where the customers made specific requests as to the scenes and layouts. She also appeared as a performer in over 50 burlesque films. The photos and films were publicly denounced as perversion. Klaw was later arrested for "conspiracy to distribute obscene material" though the U.S. Mail, and Bettie was called to testify in a private session.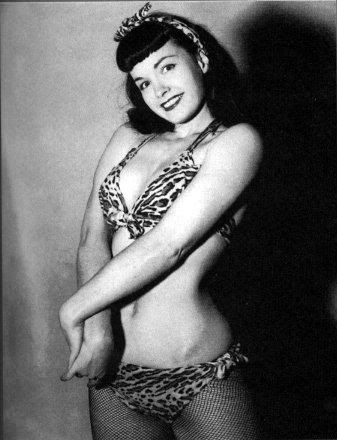 Believing that her days as a pin-up were over, Bettie retreated from public view, later saying she was hounded by federal agents. A move to Southern California in 1979 brought more troubles. She was arrested after an altercation with her landlady. Doctors diagnosed her with acute schizophrenia, and she spent 20 months in a state mental hospital in San Bernardino, following by being placed under state supervision for eight years.
Her mysterious disappearance from the public eye only fueled the public's fascination. In fact, for two decades no one was sure where she was, or if she was still alive. She resurfaced in the 1990s after being tracked down for a documentary. She occasionally granted interviews and sold autographs, but refused to allow her picture to be taken in her old age. In a 1993 telephone interview, she told a reporter that she was "penniless and infamous." She later hired a law firm to help her recoup some of the profits being made with her likeness. She spent her final years living in Los Angeles with her brother. After a three-week battle with pneumonia, she suffered a fatal heart attack in December 2008 at the age of 85.