No way! Wow! I am very honored to receive my very first blog award!! Wooop! ::clapping and jumping up in joy::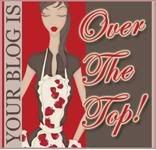 Ok, so there are a few rules which go along with this award....
1. You get to answer a 35 question survey with one word answers. (Can't make any promises, but I'll try)
2. You get to nominate six other bloggers to receive this reward!
2. Your hair? Black (yes, it's natural)
3. Your mother? <3
4. Your father? Alone
5. Your favourite food? Chicken!
6. Your dream last night?Weird
7. Your favourite drink? Coca Cola!
8. Your dream/goal? Graduate
9. What room are you in? Lobby
10. Your hobby? Blogging ;)
11. Your fear? Illness
12. Where do you want to be in 6 years? In my own Craftsman style home! (couldn't do just one word!)
13. Where were you last night? Casa
14. Something that you aren't? Punctual
15. Muffins? Banana Nut (sorry couldn't do the one word thing!)
16. Wish list item? Tattoos
17. Where did you grow up? Los Angeles
18. Last thing you did? Type
19. What are you wearing? Clothes!
20. Your TV? Wubbzy
21. Your pets? Negatory
22. Friends? Limited
23. Your life? Good =)
24. Your mood? Weird
25. Missing someone? Yes (guess who?)
26. Vehicle? The Red Shark
27. Something you're not wearing? Watch
28. Your favourite store? Target
29. Your favourite colour? Red
30. When was the last time you laughed? Earlier
31. Last time you cried? Yesterday
32. Your best friend?Eh...
33. One place that I go to over and over? Market
34. One person who emails me regularly? Boss
35. Favourite place to eat? Home...or Marmelade
And for my six nominees (Drum Roll Please!)