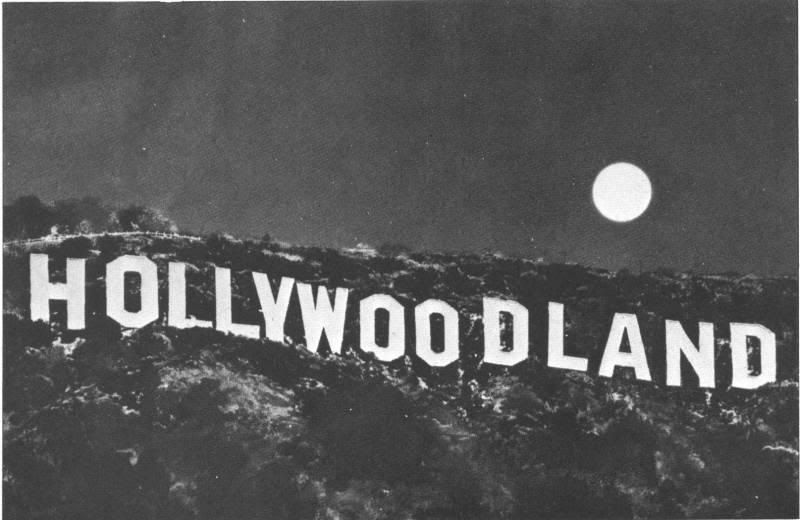 The blonde, blue eyed actress was born Lillian Millicent Entwistle, in Port Talbot, Wales in 1908. Her mother died when Peg was very young. Peg's father decided that they should move to New York and the father found work there in a theater. Peg had another unfortunate incident in her early years. Her father died suddenly one day when he was hit by a truck on Park Avenue. Peg's brothers were sent to live with their uncle, and Peg struck out on her own as an actress at the age of 17. By 1931, she was in 8 consecutive Broadway shows - that flopped. Hollywood (or course) beckoned, and she came to L.A. She moved in with her Uncle Harold at 2428 Beachwood Drive, in Beachwood Canyon. Just down the hill from the famous "Hollywoodland" sign.
This is the house Enwhistle lived in at the time of her death
She got a part in a play that included Humphrey Bogart and Billie Burke who later played the good witch in the Wizard of Oz. But the play only ran for a week and a half before closing. She did do other plays but nothing became of it. When she got a part in an RKO film called "Thirteen Women" she thought her luck had turned and this would be the start of something big. Unfortunately, most of Peg's screen time wound up on the cutting room floor. In the brutal Hollywood summer heat of 1932, her once promising career came to a standstill. Her luck had changed, but from bad to worse. She tried for small time parts and went to numerous auditions and casting calls trying to get any acting work that she could. Then her short term contract with RKO ran out and was not renewed. She was on her own and couldn't find any work even in the theater. Her friends started to desert her and she was broke. She tried to save enough money to go back to New York, but couldn't even manage train fare.
The beautiful young actress was badly depressed as she sensed her career was done. On the night of September 18, 1932, she told her Uncle Harold that she was going to walk up Beachwood Drive to the drug store, and then to visit friends. Instead she climbed her way up the tough, steep, hill through the brush to the Hollywoodland sign. She took off her coat, folded it neatly, and placed it with her purse at the base of the maintenance ladder which led up the letter H. She then climbed up the ladder to the top of the 50 foot letter "H"and jumped to her death down the hill to the rocks and brush below, dying at the young age of 24.
Peg's body was discovered two days later in the brush at the base of Mount Lee. Here's the ironic part. Two days later Pegs uncle opened a letter addressed to Peg from the Beverly Hills Playhouse. It was mailed the day before she jumped. In it was an offer for her to play the lead role in their next play, It would be a role where her character commits suicide in the final act.
In the following years, hikers and later park rangers would report very strange happenings in the area around the Hollywood sign known as Griffith Park. Many people have reported sightings of a woman dressed in 1930's era clothing who vanishes when approached. She has been described as a very attractive, blond woman, who seems very sad. There are also many cases of people being overwhelmed with the smell of gardenia perfume which was known to be Peg's favorite perfume.
Known as the ghost of the Hollywood sign, in death Peg Entwistle finally has the fame she sought in life. Her death completely overshadowed any of the merits she may have had as an actress in life.