Last night my attempt to become a "well rounded" woman failed! and it's been has been eating at me all day so I must write about it..
I love to cook, but I'm not much of a baker, however last night I had a sudden interest in making, perhaps the most easiest dessert to make; Bread Pudding, and I failed miserably!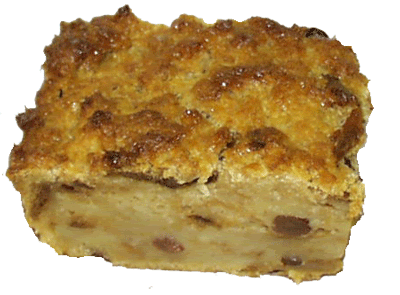 Recipe:
EASY BREAD PUDDING (key word "Easy")

3 eggs, beaten
3 c. milk
Pinch of salt
1/2 c. sugar
4 slices bread, cubed
1/2 tsp. vanilla
Mix all ingredients together. Pour into baking dish and bake in moderate 350 degree oven for about an hour or until knife inserted in the side comes out clean

.
Now how hard of a recipe is that to follow? I baked the thing for an hour at first and it was still mushy, I put it back into the oven for another 20 minutes..I did the knife check again, and it did not come back clean...threw it back in the oven...2 hours later, I was done! I took it out of the oven, and left it on my stove! I took a bite, flavor was good, but it was still mush! Blah, I gave up and threw the damn thing away!
I really don't know where I went wrong...oh well..I guess I'll have to give it another try some other time, but definitely not in the near future!
Feel much better now ::sigh::