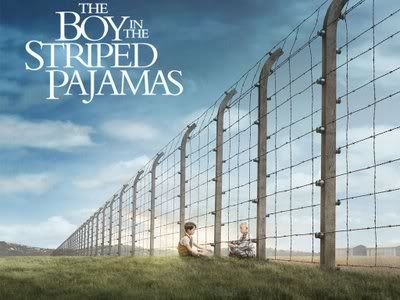 My weekends these days usually consist of watching movies I've ordered from Netflix, and this past weekend I received The Boy in the Striped Pajamas. I have to admit that I had not watched it when it was first released because I had my reservations about it being the typical Holocaust themed movie, but to my surprise... I've got to say that this is one of the best, hands down, movies I've watched thus far this year. If you haven't seen it, please do so.
Based on the book by John Boyne, this is a touching movie set in World War II, about two little boys Bruno and Shmuel who build a forbidden friendship that is separated by a concentration camp barbed wire fence. It portrays the innocence of children, demonstrating that not even a fence can stop these two young boys from building a friendship that leads them to unexpected devastating consequences.
If you haven't seen the movie, I will not spoil the ending for you, but just be forewarned that it is memorable, and heartbreaking....